DID YOU KNOW...
Electric wheelchairs may be COMPLETELY covered by Medicare


and/or private insurance, if you qualify??
To see if you qualify, click HERE

Easy Financing!!

Apply Online and Receive Notification within 2 business days! CLICK HERE

---

NEW PRODUCT!!
The Light Weight At'm Electric Wheelchair

Finally!! A truly light weight electric wheelchair!! Breaks down into 3 pieces. Heaviest piece only
34 lbs.!!
Price - $1799.00
CLICK HERE
or call For Details
1-800-449-8991

Can't Decide?
See our
SEATING GUIDE




Enter to win a FREE Electric Wheelchair!

Click HERE


Welcome

.

And thank you for visiting American Wheelchairs! We carry a huge selection of durable medical equipment including new and used motorized mobility scooters, electric power wheelchairs, wheelchair lift chairs, manual wheelchairs, scooter and wheelchair vehicle lift, and handicap ramps for the home and vehicle. We do accept assignment on electric power wheelchairs and provide qualified Medicare and private insurance billing. We offer the lowest price on the net for our durable medical equipment including motorized mobility scooters, handicap ramps, wheelchair lift, electric power wheelchairs and more, 24 hour online shopping and we ship worldwide. We provide full warranties on all of the products we sell including handicap ramps & wheelchair lift products and all motorized mobility scooters and electric power wheelchairs sold always include batteries and charger. Free shipping is also included within the continental U.S. on most items. Just click on a link to the left or below to begin your mobility scooters and electric power wheelchairs shopping experience!


Choose a category below and click on the picture to begin shopping!
See our Sales Specials Listed further Below!
| | | | | | | |
| --- | --- | --- | --- | --- | --- | --- |
| | | | | | | |
| Electric Wheelchairs | Manual Wheelchairs | 3 & 4 wheel Scooters | Inside & Outside Scooter & Wheelchair Lifts | Lift Chairs | Ramps | Walkers & Rollators |
DON'T FORGET TO SEE OUR LARGE SELECTION OF
USED ELECTRIC WHEELCHAIRS
Spectacular Savings!!!

Jazzy

Select Demo


Active trac suspension, 300 lb. weight capacity and incredible 18.5" turning radius!


Demo Models


ONLY $1395.00
While Supplies LAST...
1-800-449-8991
CALL NOW!!!

Spectacular Specials!
W-320 3 Wheel Walker
Light weight folding 3 wheel walker with locking loop brakes. Folds for easy transport, vinyl pouch included!
REG. PRICE - $149.00
Sale Price - $99.95
While supplies Last!
Lift Chairs
Full line of Pride Lift Chairs with electric recline and lift. Many upholstery styles available. Weight Capacities up to 575 lbs.! Optional Heat and massage on most models.
FROM $

5

99.00

CLICK HERE
For Financing
Heavy Duty MP3HD
Heavy Duty power Chair with 500 lb. weight capacity!! 24" wide high back seat, rear wheel drive, flip-up armrests. Great for indoors or outdoors!

Demo Model - $2995.00
While supplies Last!
The Super Light 2 Traveler Scooter
Light weight take apart. Heaviest piece ONLY 24 Lbs.!! Padded seat, width adjustable armrests and rear basket. 250 lb. weight capacity. 2.9 inch ground clearance.
REG. PRICE - $1595.00
Sale Price - $895.00
While supplies Last!!
CALL 800-449-8991 to place your ORDER!!!
FREE SHIPPING and BATTERIES and 1-Year 100% Warranty on All New Scooters,
Power Chairs, Lift Chairs and Lifts!!
CLICK HERE FOR MORE PACKAGE DEALS!!
DON'T FORGET TO SEE OUR LARGE SELECTION OF
USED ELECTRIC WHEELCHAIRS
In The Spotlight
The
Pronto M51 with Sure Step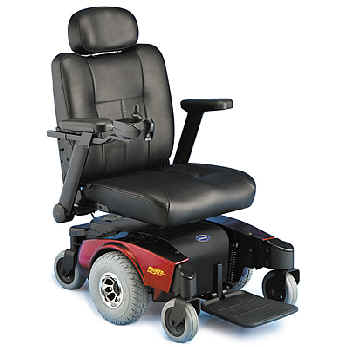 The Pronto M51 with Sure Step
The M51 boasts true Mid-wheel drive technology for exceptional maneuvering in small spaces. The low seat to floor height offers optimum stability and comfort. The sure step technology with "six wheels on the ground" provides a smooth transition over thresholds up to 2 inches, while maintaining stability. The powerful 350 watt motors provide reliable performance for up to a 300 lb. weight capacity. This unit is an excellent choice for maneuverability in the home and over light grass and gravel outdoors. Upgraded seating offers a semi-recline feature to relive back pressure and flip-up width adjustable armrests. Demo Model available for:
ONLY $995.00
includes free shipping and new batteries. While supplies last !!!!